WELCOME TO

CHARLTON HESTON WORLD

GRAPHICS LOADING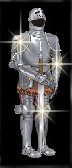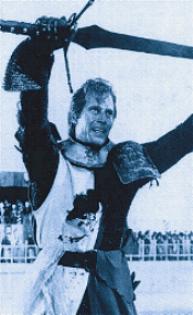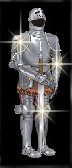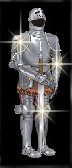 EL CID

DIRECTOR: ANTHONY MANN, 1961







In 1961, director Anthony Mann graduated into the realm of big-budget historical epic filmmaking, of which EL CID is his first and finest attempt. Impressively mounted by producer Samuel Bronston, the film recounts the legendary exploits of 11th century Spanish hero Rodrigo Diaz de Bivar, dubbed El Cid-meaning 'the Lord', because of his nobility, courage, and spirituality.

The spectacle and grandeur of 11th century Spain are fully on display here; the photography by Robert Krasker is spectacular, as are the battle scenes, filmed with the help of veteran stuntman Yakima Canutt as second-unit director. Lavish costume, medieval armour and weapons were used throughout this epic film, all filmed on location in Spain.  When released, EL CID appeared on the 'Ten Best Pictures of the Year' list.

SYNOPSIS:

In the year 1043, Heston (Rodrigo Diaz de Bivar-The Cid) on his way to his wedding, comes across a battle ensued by a fanatical Morrish warlord, Herbert Lom (Ben Yussef). Heston captures the Moors, and compelled by a sense of mercy, feelings alien to people of the 11th century, frees the Emir of Spain who promises to never again attack Castile. Back at the court of Ralph Truman (King Ferdinand), Heston's act of mercy is misinterpreted as treason by Andrew Cruickshank  (Count Gormaz), the father of Heston's betrothed Sophia Loren (Chimene). Even Loren fails to understand Heston's act. Heston is brought to trail, during which Heston's father, Michael Hordern (Don Diego) is insulted by Cruickshank. Heston begs for an apology but is refused, a duel between the two results in Cruickshank being killed. On his deathbed he makes Loren promise to take revenge on Heston for his death. Heston and Loren are married but never enjoy a wedding night. Heston tells Loren that he still loved her and wanted things to work out between them. Loren yells to Heston about his love to "KILL IT!". Heston reponsed, "YOU KILL IT!"  Loren tells Heston that her marriage will become her means to avenge her father's death and that she will never live with him as his wife. Meanwhile, Gerard Tichy  (King Ramirez of Aragon) challenges King Ferdinand for possession of the city of Calahorra . Heston 'picks up the gauntlet' to fight the Champion of Aragon-Christopher Rhodes (Don Martin)  for the city, thus according to custom of trail by combat, God would judge Heston's guilt or innocence in the case of Cruickshank's death. Loren is torn by conflicting emotions, asks Rhodes to avenge her father by killing Heston in the hand-to-hand combat. The two horse mounted knights fight with shattering violence, swords and shields clash, ending with Heston killing Rhodes. With Heston's innocence proven, he is in favor once again with the King. Loren leaves the court to enter a convent. Upon the death of King Ferdinand, Spain, which is continually besieged by the Islamic Moors, is further divided by the deceased ruler's warring offspring. Brother/Prince plots against each other for the throne. John Fraser (Alfonso) polts with his sister, Genevieve Page (Urraca) to have their brother assinated and Fraser becomes king. Heston is suspicious and forces the new king to swear before all the nobles the he is innocent of his brother's murder. Humiliated by Heston's act, the King orders Heston into exile. Heston leaves Spain, but on a lonely road he is met by Loren who begs for his forgivness and asks to join him in exile and become a real wife to  him. The two rekindle their passion for each other during a night in a stable. Love renewed they start to leave the stable but are meet by huge band of men ready to fight with Heston to help Spain regain her freedom from the Moors. Heston leaves Loren in the convent for years as he fights for Spain. During these years, Heston has won many friends amoung the Spanish Emirs. Heston returns to the convent which Loren has being living and visits his twin daughters which he has never seen before. As he holds them and their mother, Heston realizes what he has lost during his long years of fighting for Spain. Heston leaves to fight for the city of Valencia, which is very important to have before Spain can live in peace. Meanwhile King Alfonso takes Loren and the twins as hostage to make Heston do his will. Loren and the children escapes and goes to Heston in Valencia. The following morning a bloody battle is fought and Heston captures Valencia and is presented with the crown of the city. Deeply touched, he accepts it, not for himself, but for his king. This act of loyalty moves the king, who finally realizes The Cid's devotion to him and Spain. Heston nexts plans a major battle knowing his troops are out numbered by the Moors. Leading his knights, Heston rides ahead and is stuck by an arrow in his chest. Bearly able to ride his horse, Heston gallops back to the safety of the city. Before showing himself to the townspeople he breaks the arrow's shaft and hides his wound. Dying, Heston realizes that in the morning a final attack must be made upon the Moors. He makes Loren promise that, alive or dead, he will lead his men into battle. Heston grabs Loren's hand and with his last bit of strength tells her with his dying breathe that "This must be done. PROMISE ME!" She promises while tears stream from her eyes. The Cid dies. The next morning Heston is straped onto his horse in full armour carrying the Spainish flag before his troops. Frightened by the seeming invincibility of Spain's greatest warrior, the enemy flees toward their ships. With the enemy driven forever from Spanish soil,

EL CID rides across the beach, and a man becomes a legend.

Bronston spent untold millions on EL CID, including $150,000 for medieval art objects and $40,000 for jewelry. When the production was not allowed to shoot at the site of an ancient cathedral at Burgos, he ordered an exact reproduction built on the back lot of Sevilla studios in Madrid. While the film is impressive visually, director Mann's trademark exploration of the psychologically torn hero is almost nonexistent due to the immense size of the production and the legendary stature of EL CID.

Heston has been quoted to have said about this legend of a man, " The Cid was surely one of the remarkable men of the Middle Ages. And he-as is true with almost any such figure from that period where literal documentation is so sparse-has become a mythical figure, a figure of legendary proportions."

AWARDS: Academy Award Nomination: Best Score (Drama or Comedy) - Miklos Rozsa

Best Song - "Love Theme from El Cid (The Falcon and the Dove"; Miklos Rozsa (Music), Paul Francis Webster (Lyrics) Best Art Direction-Set Decoration (Color) - Veniero Colasanti (Art Direction), John Moore (Set Decoration)

MY COMMENTS:

This is, of course, one of my all-time favorite Heston films! It is grand, lavish in costume, design, and location. A true epic film. Chuck is the ONLY actor who could have played this role and he did with his heart and soul. He researched as much as he could on The Cid and he helped find authentic armour to wear as The Cid. He and Sophia's scenes were outstanding together. The sheer violent emotion they showed in the scene which Chuck tells her to kill his love was explosive. Yet the scenes they shared in the stable were tender with their rekindled love for each other. Chuck was awesome in the hand-hand battle scene. He learned how to use the broad sword for this movie which is a feat in itself. Not only did The Cid ride off into history as a legend but so has Chuck with his role as EL CID.



     PICTURES FROM EL CID BELOW

  PLACE YOUR CURSOR OVER THE PICTURES FOR  INFO ON THEM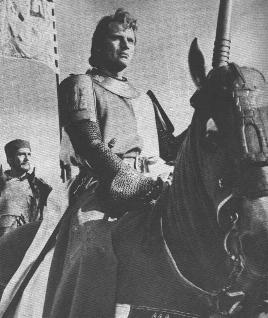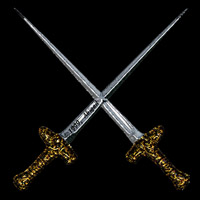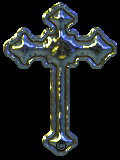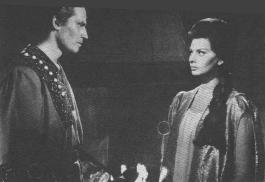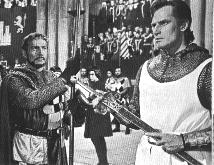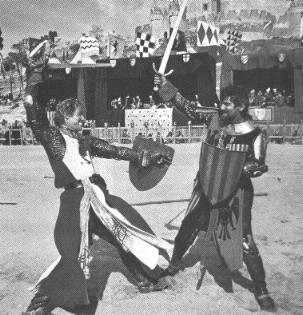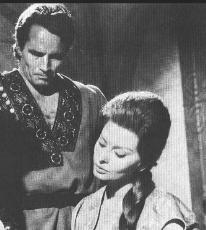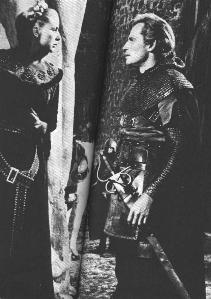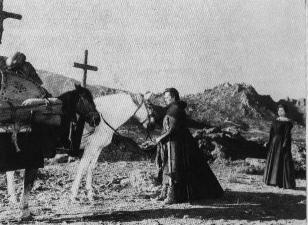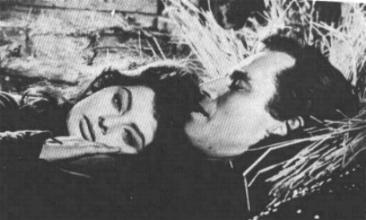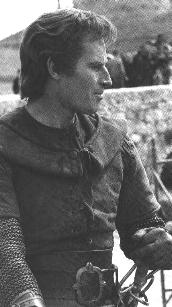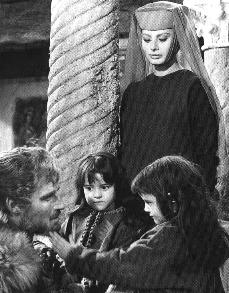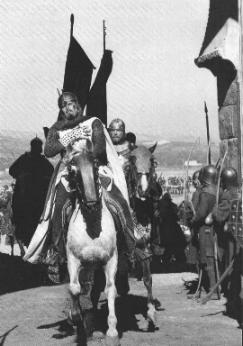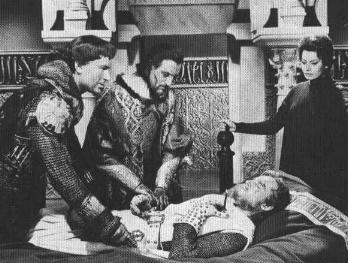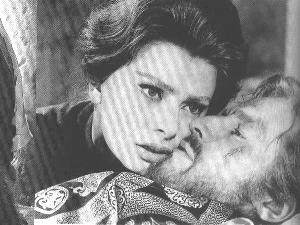 MORE INFORMATION ON

                                           EL CID:

Academy Award Nomination:

Best Score (Drama or Comedy) - Miklos Rozsa

Best Song - "Love Theme from El Cid (The Falcon and the Dove"; Miklos Rozsa (Music), Paul Francis Webster (Lyrics)

Best Art Direction-Set Decoration (Color) - Veniero Colasanti (Art Direction), John Moore (Set Decoration)

Country of origin: U.S.; Italy

Genre: Biography; War

Color or b/w: Color

Production Co(s).: Bronston; Rank

Released By: Allied Artists

MPAA rating: NR

Parental rating: Acceptable for children

Running time: 180

CAST:

Charlton Heston-Rodrigo Diaz de Bivar/El Cid

Sophia Loren-Chimene

John Fraser-King Alfonso

Raf Vallone-Count Ordonez

Genevieve Page Queen Urraca

Gary Raymond-King Sancho

Herbert Lom -Ben Yussef

Massimo Serato-Fanez

Douglas Wilmer -Moutamin

Frank Thring -Al Kadir

Hurd Hatfield -Count Arias

Ralph Truman-King Ferdinand

Andrew Cruickshank-Count Gomez

Michael Hordern -Don Diego

Carlo Giustini -Bermudez

Christopher Rhodes-Don Martin

Gerard Tichy -King Ramirez

Fausto Tozzi -Dolfos

Tullio Carminati-Priest

Barbara Everest-Mother Superior

Katina Noble

Nerio Bernardi

Franco Fantasia

your text.


CREDITS:

Producer: Samuel Bronston & Anthony Mann

Director: Anthony Mann

Writer: Philip Yordan & Fredric M. Frank

Cinematographer: Robert Krasker (Super Technirama, Technicolor)

Editor: Robert Lawrence

Music Composer: Miklos Rozsa

Music Lyrics: Miklos Rozsa, Paul Francis Webster

Production Design: Veniero Colasanti, John Moore

Set Decorator: Veniero Colasanti, John Moore

Special Effects: Alex Weldon, Jack Erickson

Costume Design: Veniero Colasanti, John Moore

Make Up: Mario Van Riel

Stunts: Yakima Canutt





CLICK BELOW ICON TO FIND VHS, DVDs, PHOTOS & POSTERS FROM EL CID AT

CHARLTON HESTON WORLD'S ONLINE STORE

BY CLICKING THE ICON BELOW OR HERE



CLICK  NEXT FOR MORE PICTURES ON

3 MORE PAGES DEVOTED TO

EL CID


Copyright & copy: 2003 MonaK
Previous Counter Number: 70343

Replaced on 2-14-07