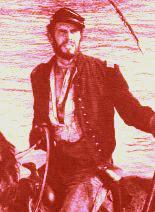 MAJOR DUNDEE

DIRECTOR: Sam Peckinpah, 1965







MAJOR DUNDEE is one of the more exciting westerns Heston has made during his career, all filmed entirely on location in Mexico. This movie has a host of  famous actors besides Charlton Heston and Richard Harris in lead roles. They are: Jim Hutton, James Coburn, Warren Oates and all time favorite 'cowboys' Ben Johnson and Slim Pickens

SYNOPSIS:

This western, adventure film sees Heston as Union officer Major Amos Dundee, in charge of a Civil War prison. Among the prisoners is his boyhood friend, Richard Harris (Captain Benjamin Tyreen of the Confederate Army), who has killed a Union guard and is scheduled to hang, along with other Confederates: Ben Johnson (Sgt. Chillum ), Warren Oates (O.W. Hadley), and others. Harris became an enemy of Hestons because they both disagreed which 'side' was right during the Civil War and fought in opposite armies during the war. During this time some renegade Apaches attacked another Army outpost, killing everyone, taking white children as hostage. Heston is given an order to lead an expedition against  the renegade Apaches and asks for volunteers to follow the Indians into Mexico and track them down, killing or capturing them. Realizing he needs seasoned troops, Heston revokes the execution order for Harris and his men, and they join a motley group of outcasts, misfits, and some Union troops to track down the Apache. Among those serving in the Union troop is Jim Hutton (Lt. Graham )as a bungling officer and James Coburn (Samuel Potts ) as a one-armed scout. Harris agreed to help Heston track down the Apaches but vowed to kill him at the end of the mission. Harris and Heston battle with each other during the entire time, especially after attacking a French garrison in a small Mexican village and taking along a voluptuous refugee, Senta Berger (Teresa Santiago ), over whom they compete for her affection. Heston is wounded by an Indian arrow while he enjoys a swim with the raven-haired Berger, and he must be doctored in a village controlled by the French who are looking for the Americans. Heston recovers, and the Americans are amburshed by the Apache, after which Heston leads his men  in a victorious battle against the renegade Apaches and collect their hostage children, whom they send home under escort. The ragged volunteers move back toward the US, followed hotly by a powerful French force of emperor Maximilian (later executed by Mexican patriots under the command of liberator Benito Juarez). Just as Heston and his troop cross the river into the US, Harris, having nothing really to live for now that the Confederacy is smashed, wheels his horse about and leads a solo charge into the French ranks and is killed, giving Heston and the rest of the men time to excape. Heston leads the eleven survivors back across the border into the US to safety.

The action in MAJOR DUNDEE is hot and heavy, with excitement and some violence at every corner, which is director Peckinpah's specialty. The lead actors Heston and Harris are strong and convincing in their roles, and solid character actors--Johnson, Oates, and Pickens--add to the enjoyment of this film.  Coburn rides along as the scout-this film made before his 'OUR MAN FLINT' stardom began. Hutton is a great comic relief and is wonderful with his 'slap-stick'. Senta Berger, the Austrian born beauty in her second American film, is good also.  MAJOR DUNDEE  and Heston made the news when Heston, in a unprecedented move, gave up his salary of $200,000 for sticking up for the project's controversial director, Sam Peckinpah and the original script by Harry Julian Fink and Oscar Saul. The studio wanted to scrap the movie before it was completed. Heston is reported to have said about the incident that he really didn't think the studio would take him up on his offer to give up his salary, but 'they' did! Heston later said he does not regret his loyalty to Peckinpah and standing firm for his principles.

MY COMMENTS:

I totally enjoyed the raw action and excitement of MAJOR DUNDEE. Chuck was great playing opposite to Richard Harris. Their scenes together were filled with explosive emotion between two men. The battle scenes in the movie were very realistic and the movie shot entirely in Mexico added to it's authenticity. I think that Chuck was very courageous to have given up his salary to save this film. Not many actors today would do this and it is to Chuck's credit, as a professional in the movie industry, that he should be recognized for his donation in saving this film. Chuck is a true professional as well as a "loyal friend."


PICTURES FROM MAJOR DUNDEE BELOW

        PLACE YOUR CURSOR OVER THE PICTURES FOR INFO ON THEM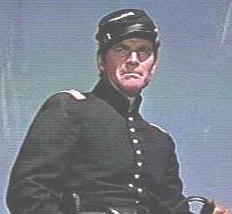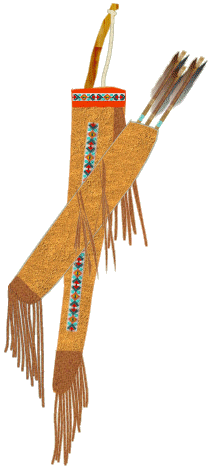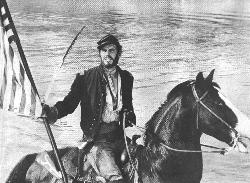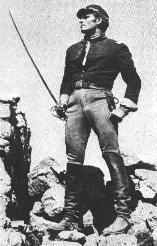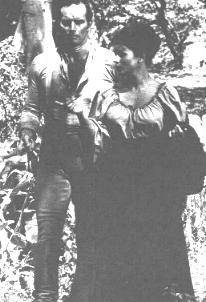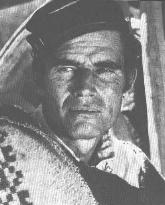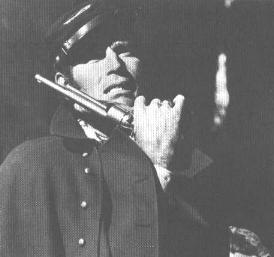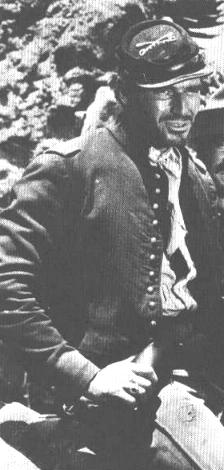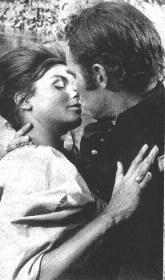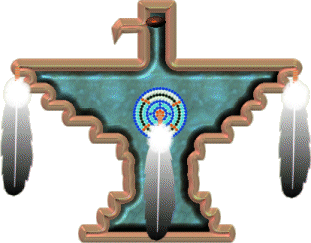 MORE INFORMATION ON MAJOR DUNDEE:

Country of origin: U.S.

Genre: Western

Color or b/w: Color

Production Co(s).: Columbia

Released By: Columbia

MPAA rating: NR

Parental rating: Objectionable for children

Running time: 124

CAST: 

Charlton Heston- Major Amos Charles Dundee

Richard Harris- Capt. Benjamin Tyreen

Jim Hutton- Lt. Graham

James Coburn- Samuel Potts

Michael Anderson Jr. -Tim Ryan

Senta Berger -Teresa Santiago

Mario Adorf -Sgt. Gomez

Brock Peters-Aesop

Warren Oates-O.W. Hadley

Ben Johnson -Sgt. Chillum

R.G. Armstrong-Rev. Dhalstrom

L.Q. Jones -Arthur Hadley

Slim Pickens-Wiley

Karl Swenson-Capt. Waller

Michael Pate -Sierra Charriba

John Davis Chandler-Jimmy Lee Benteen

Dub Taylor -Priam

Albert Carrier-Capt. Jacques Tremaine

Jose Carlos Ruiz-Riago

Aurora Clavel-Melinche

Begonia Palacios-Linda

Enrique Lucero -Dr. Aguilar

Francisco Reyguera-Old Apache

Jimmy Threetrees-Apache Brave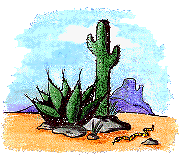 CREDITS:

Producer: Jerry Bresler

Director: Sam Peckinpah

Writer: Harry Julian Fink & Oscar Saul,

Sam Peckinpah (based on a story by Fink)

Cinematographer: Sam Leavitt (Panavision, Eastmancolor)

Editor: William Lyon, Don Starling & Howard Kunin

Music Composer: Daniele Amfitheatrof

Art Director: Alfred Ybarra

Special Effects: Augie Lohman

Costume Design: Tom Dawson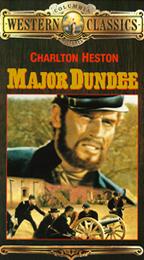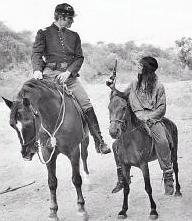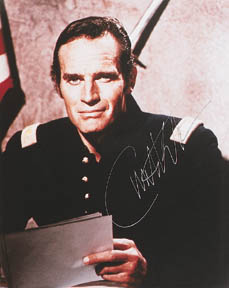 THREE PICTURES ABOVE DONATED BY DOUG REEVES


COLOR PICTURES BELOW  DONATED BY CESSIE BASS & CARLIE MERRILL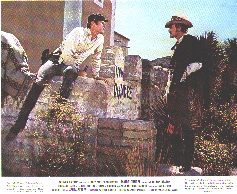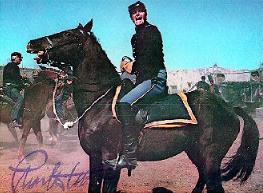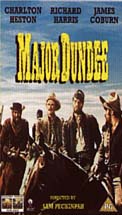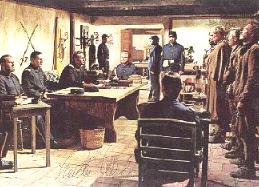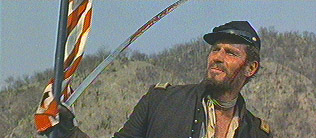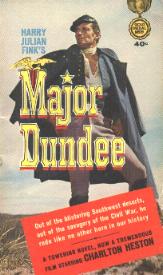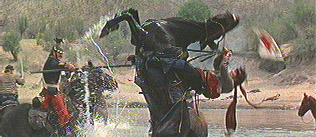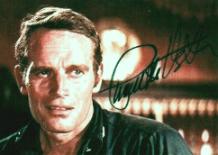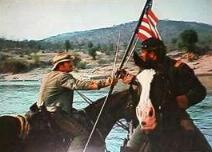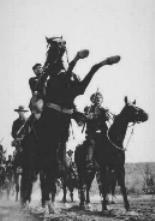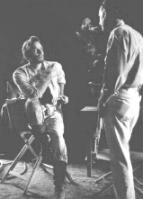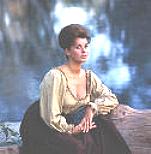 FOR MORE INFORMATION ON SENTA BERGER & MAJOR DUNDEE CLICK ON THE PICTURE ABOVE-WEBSITE IN GERMAN

CLICK THE FISH ICON TO TRANSLATE THIS SITE INTO ENGLISH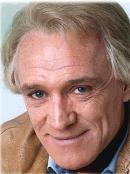 FOR MORE INFORMATION ON RICHARD HARRIS & HIS MOVIES CLICK ON THE PICTURE ABOVE












FIND VHS, DVDs, CDs, BOOKS, PHOTOS & POSTERS AT THE NEW

CHARLTON HESTON WORLD'S ONLINE STORE

BY CLICKING THE ICON BELOW OR
HERE

FIND THE VIDEO BY CLICKING THE LINK BELOW



CLICK THE NEXT TO VIEW MORE PICTURES FROM

MAJOR DUNDEE

Copyright & copy: 2003 MonaK
Previous Counter Number: 70343

Replaced on 2-14-07