TOUCH OF EVIL

Director: Orson Welles, 1958

Orson Welles' reworking of a script written by Paul Manash for "King of the Bs" Albert Zugsmith (adapted from Whit Masterson's novel Badge of Evil, which Welles never bothered to read) is widely considered one of his greatest achievements. TOUCH OF EVIL is a dark, perverse thriller about moral compromise and the price of corruption.

SYNOPSIS:

TOUCH OF EVIL begins with Charlton Heston and Janet Leigh crossing the border of Mexico for their honeymoon. Heston is Mexican narcotics agent Mike Vargas. Suddenly, a car explodes right in front of them! Instantly the arrival of U.S. cop Orson Welles (Quinlan) is on the scene of the explosion/assassination. Welles with Heston begin their investigations. Almost immediately Welles has a suspect, Victor Millian (Sanchez), a young Mexican who is involved with the dead man's daughter Joanna Moore (Marcia). In order to secure a conviction, Welles plants some dynamite in Millan's flat, but Heston is wise to Welles' game. Heston sets out to discredit Welles and prove him a liar. With help from  Joseph Calleia (Menzies), a long-time friend of Welles', Heston investigates Welles' past, all the while trying to solve the murder and protect his wife, Leigh, from a number of dangerous locals.  Welles kill Akim Tamiroff (Grandi). Welles realizes that Tamiroff is a coward and a traitor and he may give away their plot. This is something Welles can't chance. Subsequently, Heston gets the bad news that his wife is in jail charged with possession of narcotics, prostitution and the murder of Tamiroff.  Meanwhile, Welles had gone to visit Marlene Dietrich, who owns the local nightclub. The same place where Leigh had been deposited. Outside the club, wired and recording, Josheph Calleia (Menzies) confronts his boss, Welles. Heston follows them, getting every word said on tape. Then Calleia accuses Welles of faking evidence. At this, Welles shoots  Calleia. Heston gets this too on tape. Heston then shows himself to Welles ,who through some six sense, had known all along he was there. Welles prepares to shoot Heston but is himself shot by  Calleia, who had not yet died. Evidence in hand Heston turns it over to one of Welles' aides he know he can trust. With Leigh, Heston goes back home. But there's one final irony: Heston is informed that Millian confessed to the crime, that he was , indeed, quilty after all.

Directing his first film in America since 1948's MACBETH, Welles was originally just supposed to act in TOUCH OF EVIL. The misunderstanding that led to this bizarre and twisted masterpiece began when Heston read a script based on the novel 'Badge of Evil.' Hearing that Welles was involved, and assuming that his involvement meant as actor and director, Heston told producer Zugsmith that he would love to do the project. Rather than lose Heston, Zugsmith managed to get Universal to agree to let Welles direct, on the condition that he could also rewrite.

This nightmarish descent into dark entertainment has so much weirdness going on it's amazing. Heston skips the Mexican accent for this role, but wears a pencil-line mustache with dark makeup instead. His acting is excellent and he has a true grasp of the role. Marlene Dietrich, reprising her golden earrings-drag, smoking cigars and scraping pots, almost steals the show. Complete with German accent and huge, light eyes at half mast, she's the most surreal excuse for a Mexican gypsy you've ever seen.  Janet Leigh is at her most peversely innocent, and besides lots of grisly scenes (a murder by Welles the worst), there are a slew of outrageous cameos, including appearances by Welles crony Joseph Cotten, Zsa Zsa Gabor, Dennis Weaver, Ray Collins, Keenan Wynn and, wildest of all, Mercedes McCambridge as a butch biker. TOUCH OF EVIL is greatly enhanced by Mancini's dangerous, Latin Rock score. 

Heston's is quoted to have said, TOUCH OF EVIL, of course, was made by one of the great directors. If it is not CITIZEN KANE, it has been listed not far behind KANE in the list of Welles' films. It was a remarkable experience for me, a great learning experience, one of the most valuable I've had in my whole film career. I probably learned more about acting from Welles than any other fim director I've worked for."

MY COMMENTS:

TOUCH OF EVIL did not receive good reviews at the time of it's release. Since then it has gathered a huge audience which loves the 'film noir'. It is one of the best on it's list for 'film noir'. I enjoyed this film, although it was hard at times to understand Welles,' speech, but Chuck gave a wonderful performance. He kept the story moving and understandable. Chuck stated that he "learned more about acting from Welles" and I can see this in TOUCH OF EVIL. His performances are continually maturing and his acting ability shows this. This movie is a 'Must See' for anyone who studies directing (Welles' contribution) and acting (Chuck's contribution). Be prepare for many twist and turns, this movie has them everywhere. Chuck and Welles are an 'exposive' combo!


PICTURES FROM TOUCH OF EVIL BELOW

            PLACE YOUR CURSOR OVER THE PICTURE FOR INFO ON THEM




MORE INFORMATION ON TOUCH OF EVIL:

Country of origin: U.S.

Genre: Crime

Color or b/w: Black & White

Production Co(s).: Universal

Released By: Universal; October Films

MPAA rating: NR

Parental rating: Cautionary; some scenes objectionable

Running time: 108

CAST:

Charlton Heston- Ramon Miguel "Mike" Vargas

Janet Leigh- Susan Vargas

Orson Welles- Hank Quinlan

Joseph Calleia-Pete Menzies

Akim Tamiroff -"Uncle Joe" Grandi

Val DeVargas -Pancho

Ray Collins -District Attorney Adair

Dennis Weaver-Motel Clerk

Joanna Moore -Marcia Linnekar

Mort Mills -Schwartz

Marlene Dietrich-Tanya

Victor Millan -Manolo Sanchez

Lalo Rios -Risto

Michael Sargent-Pretty Boy

Mercedes McCambridge-Gang Leader

Joseph Cotten -Detective

Zsa Zsa Gabor -Owner of Strip Joint

Keenan Wynn-Man

CREDITS:

Producer: Albert Zugsmith

Director: Orson Welles & Harry Keller (uncredited)

Writer: Orson Welles (based on the novel Badge of Evil by Whit Masterson)

Cinematographer: Russell Metty

Editor: Virgil Vogel & Aaron Stell

Music Composer: Henry Mancini

Music Director: Joseph Gershenson

Art Director: Alexander Golitzen & Robert Clatworthy

Set Decorator: Russell A. Gausman &  John Austin

Costume Design: Bill Thomas



3 ABOVE PICTURES DONATED BY DOUG REEVES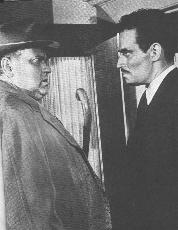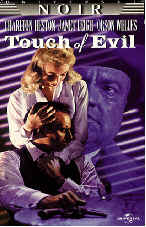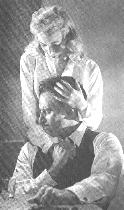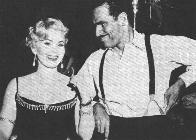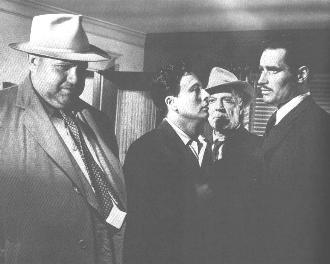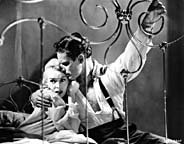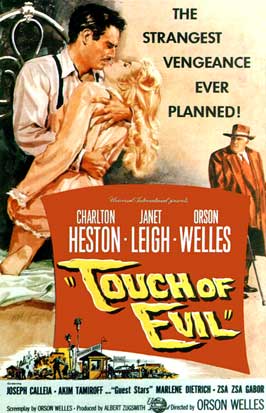 FOR MORE INFORMATION S ON

ORSON WELLES  CLICK THE PICTURE ABOVE

FIND VHS, DVDs, CDs, BOOKS, PHOTOS & POSTERS AT THE NEW

CHARLTON HESTON WORLD'S ONLINE STORE

CLICK THE ICON BELOW OR
HERE

BUY THE VIDEO  & DVD BY CLICKING THE LINKS BELOW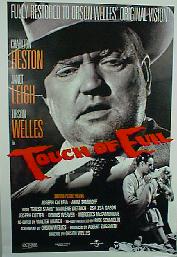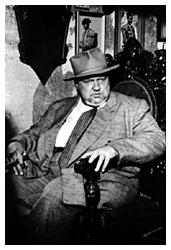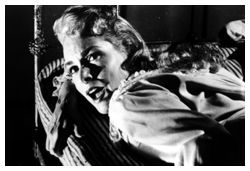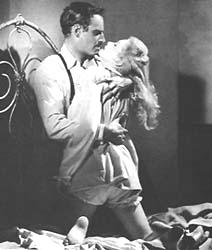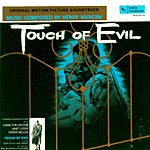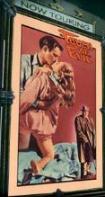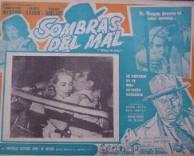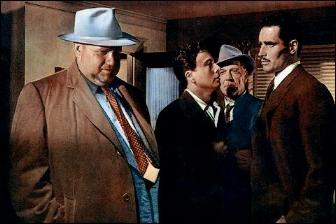 MORE PICTURES FROM

TOUCH OF EVIL

CLICK NEXT BELOW



Copyright © 2003 MonaK
Previous Counter Number: 63587

Replaced on 2-14-07